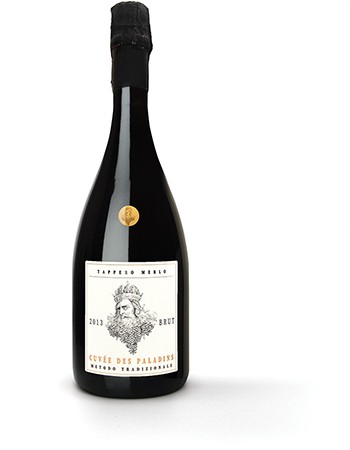 Tappero Merlo Cuvee des Paladins 2013
Cuvee des Paladins is a touch darker than Champagne, due to the Erbaluce grape. Immediately noticeable is the super-soft mousse forming from an ultra fine perlage. The nose is multi-faceted and quite complex, with yellow apple (Erbaluce signature) and grapefruit hiding behind a mineral veil. Also evident are characteristics derived from bottle age, such as pizza crust, almonds and struck flint. Finally, there is a touch of savory herbs, like sage and thyme. The palate has a beautiful foamy mouthfeel which makes the wine almost weightless. It is full bodied but soft. The finish, or almost incalculable length, leave you with a strong mineral imprint, coupled with a refreshing citrus twist. There is a chalkiness to it that makes you smile after each sip.
Wine Specs
Appellation
Erbaluce di Caluso Spumante DOCG
Aging
After the second fermentation starts in the bottle, the wine is left on the lees for an 75 months. Finally it is hand riddled and disgorged.
Wine Profile
Tasting Notes
Nose: Chalk, yellow apple, sour batârd, white pepper, pizza crust, almond, flint, yellow peach, sage. Taste: Mineral, grapefruit, lemon zest, honey, hazelnut, vanilla, fruit is behind mineral, soft and full bodied, very pillowy bubbles.
Vineyard Notes
In the vineyard, no chemicals, herbicides, insecticides, fertilizers are used and a very low use of copper. The grapes are harvested two weeks before the regular harvest in early September.
Production Notes
Primary fermentation occurs in both steel and neutral barrels. After a few month resting, the base wine will have a pied-de-cuve added and starts the second fermentation inside the bottle, always in a temperature controlled environment.
Food Pairing Notes
Cold cuts, cheese, risotto with vegetables, soups, fried fish, vegetable tempura.