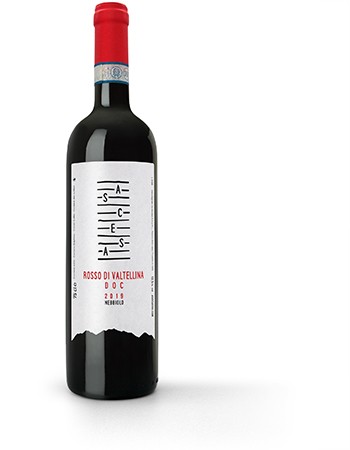 Ascesa Valtellina Rosso 2019
Wine production in Valtellina is always small due to the tremendous labor involved. The extreme slope of narrow terraces have to be worked by hand and replanting is both expensive and difficult, so many of the older vineyards remain. Soil washes down and has to be brought back up by mule or small trucks. Grapes need to be picked in three or four passes as it becomes ripe. Grapes are then loaded onto backpack baskets and heroically carried down the hill. This wine is a blend of a high altitude vineyard and one about halfway up. Some vines are as old as 70 years.
The resulting wine is a ghostly northern echo of Nebbiolo full of terroir. The color is the palest garnet with a fair degree of transparency. It still has the classic Nebbiolo orange rim. The nose is a beautiful combination of herbal (marjoram and sage) and ripely red fruit. The mouthfeel is heavier than one would expect from a 12.5% alcohol wine. One one hand it is clean, bright and cheery, but it also has a tense, wound up side of it. Almost feels like a pinot Noir in terms of weight and flavor, but the finish reminds you that it is Nebbiolo with higher acidity and tannin. Even with no oak, the Nebbiolo grape has enough tannin to stand up magnificently to grilled meats.
Wine Specs
Appellation
Valtellina DOC
Vineyard Designation
Rosso di Valtellina DOC
Aging
Six months in stainless steel
Wine Profile
Tasting Notes
The Ascesa Rosso di Valtellina is pale garnet and translucent. It has the signature Nebbiolo orange rim. Nose of sage and mint, celery seed, tiny strawberries, fresh rose petals, chocolate bark, orange, cinnamon, tomato plant, clay pot, raspberry, cherry syrup. This wine is a refreshing summer red, but can still stand up to grilled meats. Pure expression of Nebbiolo, no oak.
Vineyard Notes
Granite and schist topsoil over rock. Very poor mountainous soils. From two south facing vineyards at different altitudes. The lower vineyard provides red fruit and body, while the upper vineyard imparts acidity and minerality.
Production Notes
Fermented in steel with ambient yeast, 12 days of maceration. Minimal sulfur only added at bottling.
Food Pairing Notes
Prosciutto and Salumi, hamburgers, grilled sausages, pizza.