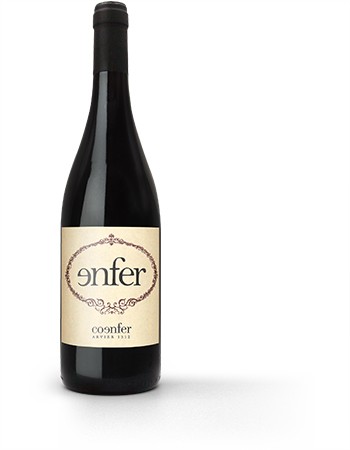 Coenfer d'Arvier Enfer 2017
I love unique and interesting wines and Enfer d'Arvier is certainly one the most unique. How can a red with so much pigment and flavor come from such a cold and marginal climate? The answer is that a bend in the river acts as a heat trap and temperatures can be several degrees higher than the surrounding area. The vineyards are planted on south facing 45 degree slope, which takes full advantage of light reflecting from the canyon walls, but also from the heat the rocks hold into the evening. The vineyards were already planted in the year 1312, meaning the stone terraces are over 700 years old. I draw parallels to Hermitage in that you can taste the parched hill in the wine.
This isn't a Rhône wine however, far from it. Many grape varieties appear in French, a nod to their close proximity to neighboring France. Petit Rouge (Picciourouzo in local dialect) is considered the highest quality red found in Valle d'Aosta (almost exclusively), and Enfer is a 100% example. While the Riservas have a more chocolatey and dark fruit profile, the Enfer is lighter, brighter and less oaked. It is a medium intensity wine with an interesting brushy nose. One could say it has the nose of a Rhône, the weight of a Beaujolais Village, and a slight rusticity all of its own.
Wine Specs
Appellation
Valle d'Aosta DOC Enfer d'Arvier
Aging
Matures in French Tonneaux for six months, filtration and clarification using bentonite clay. Further aging in bottle for six months before release.
Wine Profile
Tasting Notes
Medium purple color. Medium intensity nose of woodland scrub, almonds, cherry, cranberry, raspberry, vanilla, and orange rind. Cranberries, cherry, and vanilla taste.
Vineyard Notes
Morainic soils. more than 70% of sand present; moderately calcareous. Southern exposure at 2500 feet (750 meters). Average slope of 30°. Planting density 2,300 to 3,800 vines per acre. Fertilization annually with green manure of grasses and legumes. Vine age 14 to 40 years.
Production Notes
Wines are fermented in temperature controlled steel using indigenous yeasts. Maceration up to 70 days depending on the vintage.
Food Pairing Notes
Red meats, roasts, soups and typical Valle d'Aosta cheeses.