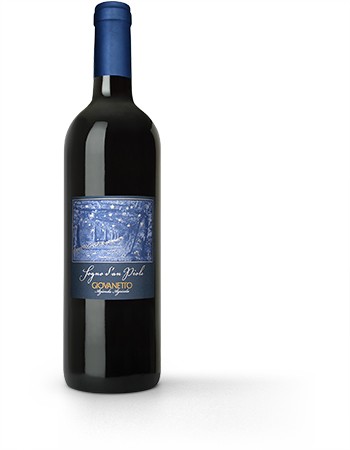 Giovanetto Sogno d'An Piole 2018
Giovanetto Sogno d'An Piole is an ancient blend, typical of the wine that would have been found here (and Carema) in the 1700's. As the last descendant in a long line, this wine keeps the tradition alive. It has long been known and appreciated by a restricted circle of individuals, and I am so proud to share it with a larger audience. The color is darker than straight Nebbiolo, due to the addition of Vernassa. The aromatics have a beautiful contrast of sweet floral and pepper notes that I adore, while the taste is fuller bodied and fruitier. The other three varietals also soften Nebbiolo (similar to the way Merlot softens Cabernet Sauvignon in Bordeaux).

The blend is comprised of Nebbiolo, Vernassa dal Picul Rus, Neretto Gentile and Neretto Nostrano. The later three varieties are rarely seen outside of the Canavese. Vernassa dal Picul Rus (also called Nerdala), was accurately selected looking for the old clones, so to find the same varieties used by our ancestors. It contributes aromas of violet and white pepper, along with body and freshness. The two Neretto varieties are over 100 years old, with peculiar shapes recalling old men curved by the tough years lived. The wine produced from them is pale, delicate and low in alcohol.
Wine Specs
Vineyard Designation
Piole hamlet
Aging
1 year in 500 litre French Durmast barrels then bottled and aged another six months before release.
Wine Profile
Tasting Notes
Medium ruby color. The nose has plum blossoms, green peppercorns, black cherry, red plum, violets, chocolate, and blueberry. Taste is chocolate and unripe cherry. Softer than straight Nebbiolo.
Vineyard Notes
Morainic soils; mostly sand, with some silt and clay. Vineyards planted between 300 and 350 meters elevation, with a south to southwestern aspect. Vines are trained in overhead pergolas and planted on rock terraces. Grapes are harvested in small hand carried containers in early October.
Production Notes
Temperature controlled Fermented in steel for 15-20 days.
Food Pairing Notes
Pasta with braised meat sauces, sausages, barbecue, burgers, smoked meats, roast chicken.