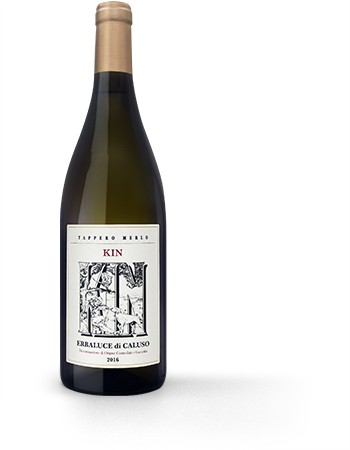 Tappero Merlo KIN 2016
This wine changed my idea of Italian white wines. I had previously thought of them as refreshing and good but simple, until I tried KIN. This was so complex, so lively! Intriguing nose is equal parts fruit, floral, herbal and mineral. It has some weight and oak, yet finishes so refreshingly with lime and salt. I could compare this to a Chardonnay from the Maconnaise or Côte Chalonnaise, but more interesting...
Plus, Erbaluce might be the best grape you have never heard of. It is one of the few DOCG's in Italy for white wines. Erbaluce, translating to "dawn light" derives its name from its thick skins, which turn amber in light. Its wines can be very acidic if not grown in the sunniest of sites. This vineyard has history as well, it was owned by Giuseppe Giacosa, who wrote the lyrics for many of Puccini's Operas. Today it is owned by Domenico Tappero Merlo whose care for the land and attention to detail create an incredible and age worthy wine year after year.
Wine Specs
Appellation
Erbaluce di Caluso DOCG
Vineyard Designation
Belvedere Vineyard
Aging
The wine remains in the barrels where malolactic fermentation takes place for 18-20 months with weekly bâttonage. At the end, it stays for a few months in concrete tanks to settle. This is followed by a very light clarification and filtration
Wine Profile
Tasting Notes
Appearance: A brilliant blond color heralds the wines purity. Nose: Pineapple, Golden Delicious, Jasmine, lime, fennel frond, celery salt, concrete, oyster shell, gravel, and Kiwi. Taste: Medium intensity wine with flavors of lime juice, chalk, wet sand and grapefruit. The finish is interesting because it is saline, with brioche and fennel fronds. Some oak presence on the palate.
Vineyard Notes
The soils are morainic; mostly sand, with some silt and clay. No chemicals, herbicides, insecticides, fertilizers used. Very low use of copper substituted largely by cerevisiae yeast and herbal teas. Harvest is at the end of September.
Production Notes
The grapes arrive in the cellar and are softly pressed. A pied de cuve with indigenous yeasts is prepared to start the fermentation which takes place in steel at a controlled temperature and ends in the 20 hectolitre oak barrels.
Food Pairing Notes
Pasta carbonara, halibut with almond crust, lobster, chicken, pork, and polenta.